Chilli Drops - 100% RAW chilli extract
Chili-Tropfen / Chilli Drops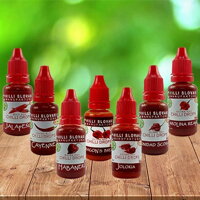 Chiliextrakte, die durch Kaltpressen von Chilipfeffer gewonnen werden. Nur ein Tropfen und das Essen ist scharf. Chili-Extrakte enthalten 100 % ganzen Pfeffer, die Packung hat eine angepasste Dosierung, so dass es möglich ist, Chili in einem Tropfen hinzuzufügen. So kann jeder die Schärfe seines Essens seinem eigenen Geschmack "anpassen". Chili-Extrakte sind 100 % NATÜRLICH ohne Konservierungsstoffe.
-------------------------------------
Chilli extracts obtained by cold pressing of chilli pepper. Just one drop and the food is hot and spicy. Chili extracts contains 100% whole pepper, the package has a dosage adjusted so that it is possible to add chili in one drop. In this way, everyone can "adjust" the hotness of their food to their own taste. Chili extracts are 100% RAW and NATURAL whitout preservatives.
Shipping 

  AT, BE, DE, DK, EE, FI, FR, GR, HU, HR, CH, IE, IT, LT, LV, LU, NL, PL, PT, RO, SE, SI, UK.