Getrockneter Chili mit unterschiedlicher Schärfe / Dried Chilli - whole or grounded whith different hotness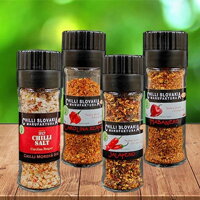 Chili-Gewürze - wir bieten getrocknete Chili Jalapeno (mild scharf), Habanero (stark scharf) und die schärfste Carolina Reaper. Wir produzieren und verpacken mit größter Sorgfalt und einem hohen Hygienestandard.
------------------------------------
Chili Spices - we offer dried whole chili peppers and dried grounded chilli Jalapeno (mild hot), Habanero (strong hot) and the hottest Carolina Reaper. We produce and pack with maximum care with a high hygienic standard.
Shipping 

  AT, BE, DE, DK, EE, FI, FR, GR, HU, HR, CH, IE, IT, LT, LV, LU, NL, PL, PT, RO, SE, SI, UK.